If you are a small business owner or a company owner and supply your business products to the consumers, you must need your business label. For regular printing, you have to be the owner of a printer for making labels. So, if you feel need a printer for making your business labels, you can follow this article. This guide will help you to find the best printer for labels. 
Printing labels and stickers are becoming more and more common as people become aware of their necessity. Stickers are one of the easiest and most cost-effective techniques for generating awareness about any product.
You have probably seen it occur yourself. Sometimes, placing stickers on things like cars, door jambs, signs, or the restroom of a dive bar can draw more attention than pay-per-click advertisements on the internet.
The best printer for labels: what should be considered?
Inkjet vs. Laser Printer
You must decide which one is needed before you can purchase a printer.
Both inkjet and laser printer models have unique characteristics. You can choose one based on what you have to need.
While offering superior color fidelity, inkjets are also more difficult to maintain. Overall, inkjet printers are less expensive than laser printers.
Inkjet printer is more costly.
But the ink cost of the inkjet printer is rather expensive, and the ink runs out faster. Although laser printers and toner are pricey initially, they can typically print a lot before needing to be refilled. Printing speed is the major advantage of laser printers.
It can print 26 or more pages in a minute. whereas an inkjet printer is much slower.
Ink for printing
When printing, it is important to examine the different types of ink. You must also decide whether you want an ink cartridge with a higher yield than the conventional yield.
Should you choose individual cartridges for each color of ink or all-in-one cartridges, such as a three-color cartridge?
Pigment-based inks and dye-based inks are the two basic forms of ink.
Pigment-based inks make use of powder pigments to provide color. This type of ink is less prone to smudging, resists fading, and is more durable than dye-based ink.
So, if you want to save your documents or images for a long time, pigment-based inks work best on smoother surfaces like stickers.
Color and Resolution of a printer
This is necessary for crisp and bright visuals and is measured in DPI (dots per inch). A higher resolution is preferable for a high-quality photograph.
A general rule of thumb for stickers would be roughly 1000 × 1000 dpi because they typically contain color. Some printers can even print at a resolution of 4800 x 2400 dpi.
A high-quality black-and-white print. Sometimes the color is distorted or does not come out as planned, which can destroy the stickers once they are printed.
Conduct research and read various evaluations to determine the best color accuracy.
A printer with at least five six-color ink cartridges is a good indicator of whether the printer will print more accurate photos.
Printer Speed
If you have your own business, you should have a printer that can print more quickly.
The printing performance of a printer may be determined by how many pages it can print in a minute.
Moreover, when you have a huge printing order, you do not want to wait excessively. Faster printers are more expensive,
and color printers print slower than monochrome or black-and-white printers.
It might not be a problem to print stickers at home, but if you own a business, you should look for a printer with at least 15 ppm.
Although laser printers are faster than inkjet printers, inkjet printers have significant advantages when producing stickers.
The cost of a printer
You can have a budget for buying a sticker printer. There are various printers available in a range of price points to fit any budget. You shouldn't just select the least expensive choice.
Think about the cost of the ink cartridges and the expected cost of printer maintenance.
Today's printer alternatives also include cartridge-free printing, which may cost more initially but save a lot on ink replacement.
When printing stickers as a company, it is usually wise to analyze all the costs involved, including the initial printer price, ink cartridges, and other charges, in order to generate a reasonable profit.
Connection to a printer
Today, most printers can support Wi-Fi and Ethernet connectivity to print. You can also get direct print from social media and online platforms.
Without a router, you can also connect to networks and print directly from your phone or other devices.
Some printers offer a touchpad interface that allows you to quickly access and make the printer easier to operate.
Printer Specifications and Features
Before purchasing, you should explore the printer's features. Some printers offer additional functions that you may find interesting or useful.
These additional printing features can save time and perhaps money. You can understand page size, printing quality, ink system, and printing technology to follow the features.
10 Best Printers For Labels Reviews
Meihengton Thermal Label Printer
Meihengton Thermal Label Printer is one of the smartest printers for label printing. You can place a small desktop label printer almost anywhere without taking up much room. This mini-sized printer is made of high-quality materials, and it is textured. Overall, it looks wonderful.
This label printer's a built-in dual induction positioning mechanism. It allows the printer to automatically and precisely alter the position. This makes the entire printing process simple and quick. This simplifies and expedites the printing process.
It works with all Windows and Mac systems comfortably. It allows you to generate personalized labels directly from any application.
Meihengton label printers fulfill different label requirements between 1.5″ and 4.7″, which is perfect for 4″ x 6″ USPS shipping labels, warehouse labels, other sized barcode and ID labels, bulk mailing labels, and more.
You may put a small desktop label printer anywhere, and it won't take up much room. Perfect for small businesses, warehouse management, clothing tags for designers, and home organization.
This label automatically identifies the attributes of the label you need to print, locate it at the label's cutting place, and prints it without wasting any labels.
☛ Pros:
prints at a speed of 150 mm/s
Easy connectivity
up to 4.7-inch wide prints
simple to use on any Mac or Windows system
☛ Cons:
Software is something difficult
Rollo Shipping Label Printers
Rollo is a commercial-grade label printer that works with high-speed printing technology. It is used to print high-quality labels, box labels, and bar codes without the use of ink on any direct thermal label (including those offered by UPS and U-Line).
Rollo delivers the quickest, most secure, and most cost-effective way to print your label. Rollo will offer crystal clear labels at a faster rate, whether you print 5 or 5,000 labels each day.
Rollo has a proprietary design to increase your production with cost-effective, high-performance logistics printing for the most demanding environments.
Rollo may be modest, but you have to wait till you see it in action. It can print up to 238 four-row labels per minute or 60 full-size shipping labels.
Rollo can automatically determine the size and attributes of your label by clicking a simple button. Loading labels is simple, quick, and straightforward.
Rollo works with any direct thermal label. This will save you a lot of money because you won't have to buy expensive printer-specific labels.
☛ Pros
Application of advanced thermal direct technology
It has the ability to automatically identify labels
Fast-speed system
No need for ink or toner
DYMO Label Printer- 450 
Direct thermal printing is used by the DYMO Label Printer. It comes with DYMO software, which will make creating and printing addresses quick and easy. It has a speed of 51 labels per minute for creating and printing barcode labels.
This particular printer equips your office with a professional-grade label maker to manage your labeling, filing, and mailing requirements.
Thermal printing eliminates the need for ink and toner, and the label printer's elegant, compact form makes it an excellent addition to any office.
Thermal printing technology eliminates the need to spend money on expensive ink or toner.
Even well-known apps like Microsoft Word and the Mac Address Book have direct printing capabilities.
Label rolls that are simple to load minimize the hassle of manually feeding label sheets into a regular printer
☛ Pros:
It allows you to generate labels of various sizes
Label personalization and printing made simple
Quick labeling
offers incredibly clear printing
☛ Cons:
It is incapable of dual-rolling
Canon PIXMA TR4520 Wireless Printer for labels
The Canon PIXMA is a multifunctional machine with printing, scanning, copying, and faxing capabilities. It also does a fantastic job of printing labels.
The combination of this versatility with the top-notch connectivity choices (WiFi, AirPrint, and USB) results in one of the most adaptable products on the market.
This device is not only versatile, but it is also remarkably simple to set up and operate. As a result, it is ideal for users of all types.
There are also a lot of technological aspects here. The printer supports Wireless Connect and connects to the Canon Print app, allowing you to print from your smartphone or tablet.
There is also auto power on/off to save energy, as well as voice-activated printing.
With Dash Replenishment, all ink reorders are discounted by 10%. When you activate your printer, it detects ink levels and places smart reorders when you run low.
It is possible to use USB technology, devices with iOS, Android, Windows 10 Mobile, and Fire OS (Amazon Fire) operating systems
☛ Pros:
Can play multifunction
It is available with Alexa
Wireless connectivity
☛ Cons:
Overwork may cause the ink to run dry
Arkscan 2054A Shipping Label Printer
The Arkscan 2054A printer is the best printer for labels that perform multi-functional work. It can print labels for various uses, including shipping, product, barcode, and other labels. It can print images with a minimum width of 0.75″ and a maximum length of 4.25″ and 90″ respectively.
To print product labels, this printer supports the BarTender UltraLite Label Design Software Tool (Windows Only). It includes comprehensive design capabilities for text, graphics, barcodes, and the majority of serializing options.
This label printer provides 5-star U.S.-based real-time technical help through phone, live chat, and remote access, with extended office hours from the east to the west coast.
Arkscan knows the demands of U.S. clients, speaks your language, and provides prompt technical support for your printing software.
Direct thermal technology eliminates the need for ink toner refills. It's compatible with Arkscan's labels, Zebra-compatible labels, and Dymo-compatible labels without pre-printed content on the back. The most common label sizes, including 4×6″, 4×8.25″, and 4×6.75, are supported.
☛ Pros:
It is available for multi-functional task
Available software to operate
Direct thermal technology is available
☛ Cons:
It is not iOS and Android compatible
Brother QL-800 High-Speed Printer
The Brother QL-800 is a high-speed label printer featuring innovative technologies. It enables you to print the entire label in high-visibility black and red. It prints black and white labels quickly for envelopes, shipments, file folders, barcodes, and other commercial applications.
The brother QL-800 series is the only office category label printer that offers two-color printing over the whole label!
To help with time savings on large projects, it provides incredibly rapid print speeds of up to 93 standard address labels per minute with black text at 300dpi.
You have to connect to the computer to print your labels, or you can use the free Brother iPrint& Label app to create labels on an Android device.
These printers utilize direct thermal printing, so there is no need to change costly ribbons, ink, or toner.
It can print pre-sized, easy-peel Brother DK labels, as well as continuous-length paper and film tapes. Autocutter permits banners and billboards as long as 3 feet.
☛ Pros:
An App available for easy printing labels
It can print multiple types of label
Multi-color print
Printing setup is easy
☛ Cons:
You will need a USBtoGO cable connection
Brother P-Touch, PTH110 Label Maker
The portable PT-H110 makes it simple to print professional-looking labels from any location. It includes a selection of fonts, frames, and symbols to help you customize your labels. The Brother P-touch TZe tape is sturdy and laminated.
If you need the best label printer for organizing but do not need to print barcodes or shipping labels, this portable gadget can be quite useful.
The PT-H110 makes it simple to customize your labels. It features three fonts, five patterns, fourteen frames, and over 250 symbols.
The Brother P-touch TZe tape is laminated, making it both indoor and outdoor resistant. It's smear and fade-proof. It can withstand domestic, commercial, and industrial use.
Brother P-touch TZe tape comes in 4 different widths for the PT-H110: Inches: 3.5mm (0.13), 6mm (0.23), 9mm (0.35), and 12mm (0.47 inch)
A one-year limited warranty and unrestricted phone assistance are included with the P-touch PT-H110 Label Maker.
☛ Pros:
A keyboard is build-in
It is portable
Quickly printing labels
Cheap
☛ Cons:
Very small print documents
MUNBYN Shipping Label Printers
MUNBYN is a 4×6 label printer that utilizes direct thermal printing technology. The majority of thermal label types are supported. It prints without the use of ink, toner, or labels.
With the help of Self Research & Development, the MUNBYN label printer has been built exquisitely with a considerably smaller footprint, which will free up a great deal of room on your desk and make everything more organized.
The MUNBYN Label Printer is capable of printing labels of various sizes. Up to 152 mm/s printing speed and 203 dpi printing resolution are supported.
Both Mac OS (10.9 and higher) and Windows are supported (XP and higher).
☛ Pros:
It can print 70 labels per minute in continuous mode
It can print for 12 hours continuously
☛ Cons:
It can not support a tablet. smartphone
K Comer Shipping Label Printer
The K-Comer Shipping Label/Sticker Printer is a printer with a high-speed one-click setup option for Windows and Mac.
It employs the most recent thin-film direct thermal printing technology, resulting in stable and fast printing.
It only needs four steps to install the driver. You have to double-click to launch the installer from the USB disk.
This sticker printer is essential for small businesses to employ improved thermal technology. There is no ink, toner, or ribbon, and it is very friendly to the environment.
☛ Pros:
It can print automatically according to label size
It includes an intelligent paper return function
Printing quality is also good
ZEBRA GK420d Direct Thermal Desktop Printer
The Zebra GK420d is a direct thermal wireless shipping label printer that saves time and money.
It employs direct thermal technology and so necessitates direct thermal media.
It is compatible with media rolls and connects via USB, serial, and parallel. It is made to last and be used frequently. With a maximum print speed of 5 in/sec, 203 dpi, and Energy Star certification.
☛ Pros:
It works best for distributed printing and mid-volume printing applications
Energy Star has certified it
It's simple to set up
☛ Cons:
No such drawbacks to note
Conclusion
We have reviewed some of the best printers for labels. Here we have listed, according to feedback, usability, dependability, printing speed, and printing quality. Every product has its own unique features, and you can select them for purchase according to your needs.
Examining the product's technical specifications can assist you in selecting the best one for your company. Another key consideration in this choice is the product's pricing and budget.
We hope that this information will assist you in choosing the best label printer for your workplace, home, or business.
budget.
We hope that this information will assist you in choosing the best label printer for your workplace, home, or business.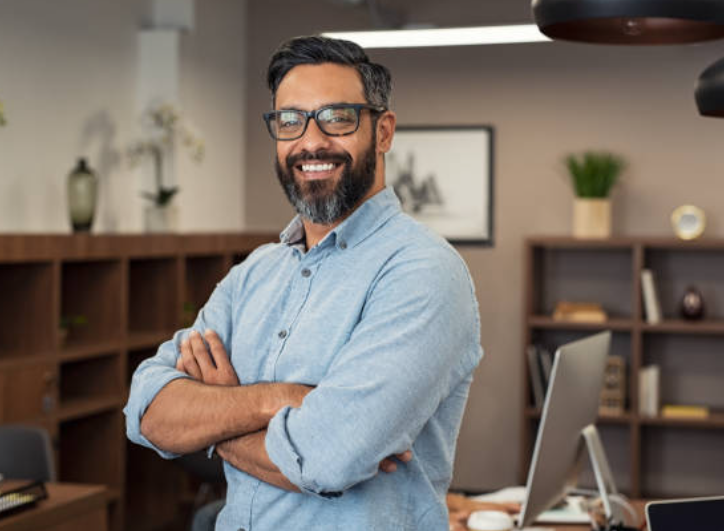 Richard Parkar, a dedicated Tech Blogger who now contributes to the blog "Best Printer Today" as a writer. With a strong sense of humor and years of professional experience in the fields of research and blogging.